Kites on Mendota 2018
Kites will be fly Saturday and Sunday 10 am to 3 pm.
There will be kite kits on Sunday morning
More info on what else is going on. Click Here.
Parking:  As adjusted Craig Wilson.
Park near James Madison Park, 2 blocks north east of the Edgewater hotel. That park is at lake level so it is pretty easy to put your gear on a sled and drag it over the the flying site out on the ice.
Free parking is provided by National Guardian Life Insurance Company in their above ground lot located ACROSS the street from 529 North Pinckney Street, Madison.  See the attached map.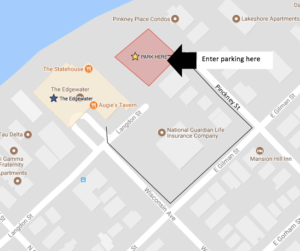 Location : Edgewood Hotel and Lake Mendota
1001 Wisconsin Pl
Madison,  WI  53703